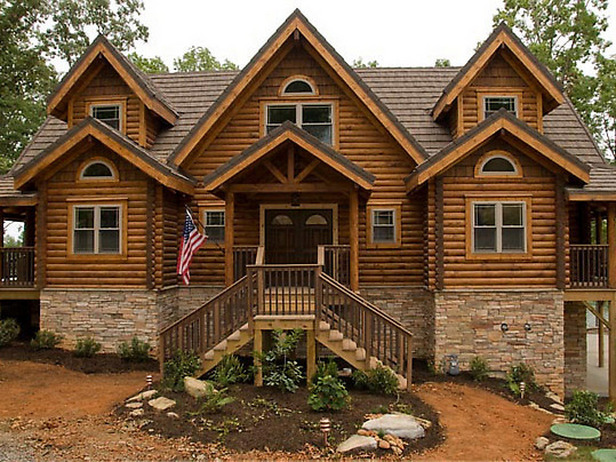 If you are in the design/building stages of a new log home, make sure you call us to give you an estimate to wash, stain, caulk or chink your new home. We are experienced at dealing with homebuilders and contractors, and working with their schedules to get our work done in the allotted time to expedite their production.
So whether you are building a cozy cabin or a luxurious lodge, let us be the company you choose to finish your home. After that, you'll be put on a maintenance program to ensure your home is always beautiful, protected, comfortable and worry-free (ask about our warranty.)
In case you missed the information about log home efficiency in some of our other pages, you should be glad to know that log homes can outperform stick built homes in energy efficiency by more than 15 percent.
This only applies if your home has been properly finished, however. Things like chinking the interior and exterior of walls will play an important part in efficiency.
Other important work that must be completed is the cleaning of the logs required for stains to perform to their intended potential. If you have ever seen a log home that looks like it has aged prematurely, it is probably a result of bad workmanship done at this stage of the project.
Dirt and dust will prevent stain from soaking into the logs properly and over a short period of time, the stain that didn't absorb fully into the wood will start to pop off, causing the home to look older and creating a weak point in the protective shell of the home which will eventually lead to wood rot. That is why properly cleaning your home prior to staining is such an important factor in the life of the home.
We are firm believers that the interior of a log home should be sanded prior to finishing. Look, this is a job that will be done once if done correctly. So often we come into homes that are four or five years old to solve problems that obviously came from corners being cut during the finishing phase of construction. And if you caulk your home prior to staining, the stain will obscure the caulk and you won't have an eye soar. We take a detailed, thorough approach to finishing new log construction–because we want to be the guys maintaining your home for years to come!
Call today and lets discuss the perfect finishing for your log home!