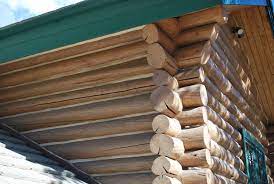 Chinking and caulking are important elements in maintaining the weather tightness of your log home. Chinking is used to fill the gaps between the logs while caulking is used to seal the gaps around windows, doors and other fixtures. Failure to properly apply chinking and caulking can lead to drafts, water damage, and insect infestations.
While it can be a do-it-yourself project, there are many reasons log home owners opt to hire a professional.
Hiring an experienced log home restoration company ensures that the surface is prepped and the chinking and caulking are applied correctly. They have the specialized tools and techniques to ensure that the job is done to last. There are many factors to consider with this type of restoration, outside and surface temperatures and debris removal, to name a few.
A true professional will understand the difference between quality and second-rate materials. Professional log home restoration and repair companies only use high-quality materials that are specifically designed for log homes. They know which products work best for each situation and can recommend the right materials for your home. This is not something you want to get wrong. Chinking can  last a long time and model what you have, if selected correctly. The team at 888 Log Guys will take the time to ensure the right product is used.
Professionals can cut the time for the project. Applying chinking and caulking can be a time-consuming, tedious, process, especially if you're not experienced. Professional log home companies have the skills and equipment to complete the job quickly and efficiently, saving you time and hassle.
Applying chinking and caulking can be a dangerous job as well, especially if you're working at heights. Professional log home builders have the proper safety equipment to ensure that the job is done safely.
By hiring a professional log home restoration company to apply your chinking and caulking you will get a properly sealed home, the look you want, with long lasting application.