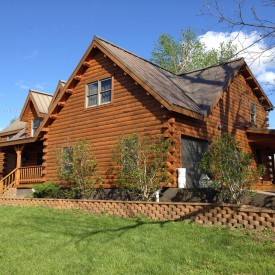 A new construction home allows you to select design options that will aid in the long-term integrity of your homes structure, both the exterior and interior. Some of these options you select may include the type and shape of your logs and how they join, how the roof line will be designed to aid with water drainage, the caulking, sealing and finally the stain selection. These and many other choices will play an important role in how well your home holds up to the elements. However, if you have a home where these decisions were made long before it was yours, not to worry… There are equally as important choices to help you protect your home going forward.  Below are a few considerations for you to review.
Water Drainage
Hopefully your foundation area has a slope to help with natural water flow. Regardless, here are some additional things you can do! Make sure your downspouts or splash blocks divert rainwater at least 6 to 9 feet away from the home. Install a French drain to keep water hazards away from your home. These flexible pipes, set into trenches filled with gravel, draw in moisture from the surrounding soil and channel it away. Inspect flashing in the valleys of the roof and around the chimney and enclosed plumbing vents to ensure a tight seal against water. Use roof tar to seal edges that have lifted up.
Vegetation and Landscaping
Clear all stumps and fallen trees within 50 feet of your home, since these can harbor wood-boring insects and a variety of pests. Watch for tree branches that can be a bridge to your home for nesting insects.  When planting, keep shrubbery a minimum of 3 to 5 feet from the walls of your home. The goal is to enable air to circulate freely around the home to help dry the logs after it rains or snows. Use gravel or wood alternative mulch for your landscape projects.
Insects, Rodents, and other Pests
If you see signs of termites, call a pro. Indicators of a problem include frass (a sawdust-like substance) and tunnels in the wood. If carpenter bees or carpenter ants have set up shop in your home, locate and destroy their nest with an insecticide and fill holes with caulk. There are alternative treatments to insecticides if that is preferred. Look into the use of essential oils, peppermint and lemon grass are great options.
If you are fortunate enough to build your cabin from scratch be sure to use pre-treated wood. Popular tree types for cabins include many trees that produce sapwood that is an attractant for pests.  Treating wood will help make it as resistant as possible to pests. You should always keep the exterior of your log cabin as clean as possible and keep outdoor trash far away from your cabin. Monitor inside your cabin for pests with glue-based monitors. Monitors will allow you to notice the presence of pests before they become an infestation. Early identification can be treated easier and will hopefully avoid costly repairs.
Cleaning your Logs
Remove dirt from the logs. You can do this by using a log-wash solution, sanding, power-washing or corn-blasting, depending on the condition of your logs. If you elect to wash your logs with a cleaning solution, always remember to apply cleaners from the bottom of the walls upward, then rinse from the top down. Always make sure to thoroughly rinse the cleaning solution off the walls. Follow manufacturer's directions. Keep in mind a good log wash should be done periodically even when not resealing after.  After waiting for the logs to dry, apply a borate preservative and allow to dry.
Stain and Topcoat
There is a lot to consider when it comes to your exterior stain.  If stain and finish repair is needed, it's important to clean the wood properly and remove all old stain and sealant flaking in preparation.  We typically suggest a waterborne acrylic stain with high concentrations of fungicides and UV inhibitors. A clear topcoat is an integral part of a log homes exterior finishing system. Not only does it extend the life of the stains color, but it also significantly improves the look of your home by enhancing the color, clarity, and depth of the finish.  When applied properly, a topcoat helps to repeal dust and mold, keeping the surface cleaner.
Sealants
Your Log Home sealants include log chinking, caulking, flashing and stain topcoat. You will want to make sure all possible gaps, including roof flashing, joints, and chimneys, areas around windows and doors as well as any exterior pipes or electrical outlets are well sealed. Not only will this protect your logs from water damage, but it will aid in keeping pests from seeking food and shelter within your logs!
Annual Inspections
Complete a visual inspection at least one time per year looking for potential signs of issues.  Things to look for include;
Faded, discolored, or damaged finish to your logs
Stains or darker spots that could indicate mold or a fungus
Green moss or algae
"Mud tubes" from termites
Sawdust, pinholes, or frass from carpenter ants
Gaps between the logs that allow water, air, bugs, mice, or bats to infiltrate
Upward-facing cracks, called checks in your logs
Poor water drainage
In the end, maintaining the beauty and the majesty that attracted you to your home is what's important.
"There are elements of intrinsic beauty in the simplification of a house built on the log cabin idea" ~Gustav Stickley