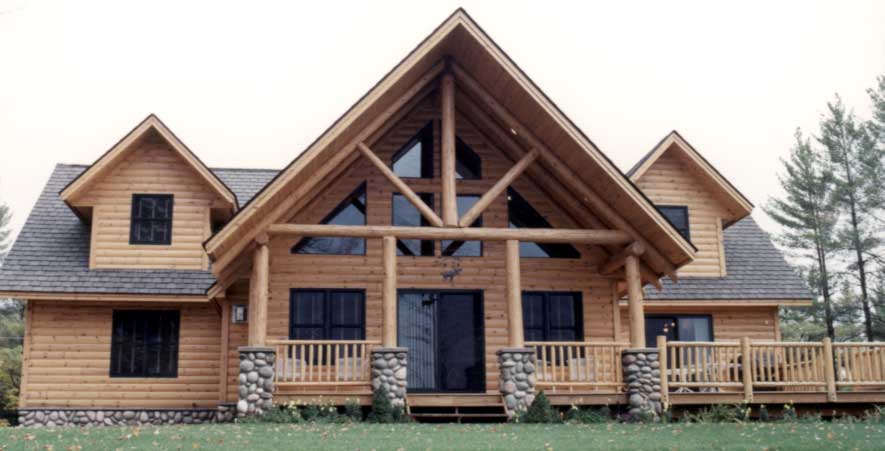 We all love the rustic look and getaway vibe of a log home, but after you've enjoyed your log home for a few years, you might feel the need to upgrade some areas or just add your own personal touch. Here are some budget-friendly projects that can give your home an HGTV-worthy makeover while still keeping that cozy, inviting feel that only a log home can provide.
Interior Accents
Starting inside the house, there are a variety of projects you can do to add or upgrade the log cabin charm factor such as installing dramatic wood beams, false rafters or interior log siding. A trick of pro designers is to whitewash the walls in order to brighten the room and make the style feel more contemporary. Whitewashing is preferred over simple white paint, as little is needed to allow the grain of the log or wood to still come through.  The end result is beautifully distressed walls. If you are not into brightening up the room quiet so much, you can opt for the aged barnwood look using new wood with special distressing techniques. How about adding an elegant flare with lighting fixtures or a unique furniture piece? A chandelier perhaps, or maybe a long wood slab dining table?  These kinds of projects are usually low in cost and high in impact, dramatically updating your home and giving it an entirely new feel.
Porch Extensions & Additions
If you want to boost your curb appeal while adding functional space to your log home, a new porch or porch extension, with a railing upgrade can make all the difference. Not only does a well-designed porch make your home look more inviting, but it also often increases the value of a cabin far more than the cost to build it. If the entry way has steps and a small overhang, extending the space to create a larger porch or even full deck that covers one or more sides of the home adds bonus protection from the elements, and lots more space for you and your guests. You can also spice up your porch décor with an outdoor furniture upgrade and some greenery.
Doors And Windows
Replacing doors and windows on an older home is one of the best ways to give it a makeover without investing too much time or money. Installing dramatic French doors in place of old sliders, or solid wood in place of aluminum is an easy way to improve your home's first impression, inside and out.
Exterior Accents
There are plenty of ways to add appeal to the exterior of your home.  How about installing wood gables in the peaks, or large exterior porch full-log beams?  Maybe all your home needs is a new coat of stain and sealant? Beautiful details on the exterior serves to heighten curb appeal and bring that little extra something to your home!
At 888 Log Guys, we've been planning and helping clients with their log home renovation, repairs and porch addition projects for the past 20+ years. If you need a little help with your project, give us a call!