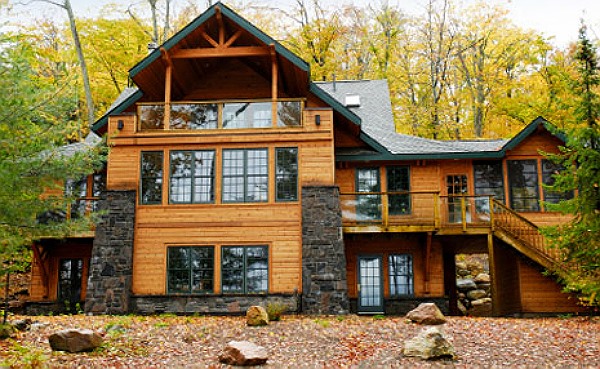 Have you owned your log home for a while?  Does it still offer you the "Wow" factor it once did? Log home ownership is a dream come true, but how do you keep that dream alive? Like with any home, updates and upgrades can be desired, in fact needed over time.  Let's talk about some Log Home improvements to get the wow back!
Custom interior sanding and staining
You can enhance the wood grain on interior walls with a wide palette of colors in semi-transparent and transparent stains. A light sanding of interior surfaces will provide a smooth base for even application. One new trend for large spaces is applying a whitewash stain to the interior cedar and purlins. Because wood tones tend to shift interiors to a cozier and more subdued atmosphere, a whitewashed great room or kitchen area can expand, brighten, and prove a stylish backdrop to a mix of brights and neutrals.
Before applying the stain, test some color samples on leftover pieces if available, or discreet areas if not.  The stain should be semi-transparent or completely so, to enhance the character of the wood, not hide it.
Replacing old siding with cedar shakes or cedar lap siding
Cedar shanks or lap siding may be used to cover existing wood beveled siding. In most cases, the shakes or shingles can be applied directly over the existing siding. Cedar is a very durable species of wood that resists rot and pests much better than other types of wood. With cedar, the most important thing is to minimize exposure to moisture which can cause rot.
Installing a custom timber-framed staircase
Interior and exterior staircases are often overlooked as a design element, adding timber stairs is the perfect opportunity to create a dramatic focal point in a room or to the exterior of a home. Timber railings and newels compliment a timber stairway but can also be used with a conventional stair system.
Timber stairs and railings can be built all sorts of ways to get you from floor to floor. The choice of wood and style of finish can make a dramatic impact, whether you want a rustic appearance or a sleek, polished look.
New deck or new deck flooring
Decks are undoubtedly the most popular way to boost your homes livable square footage at a lower cost and provide a great way to make use of outdoor space. There are several key factors to keep in mind when incorporating a deck or even redoing flooring on your existing deck.  What type of material to use, cedar planking, redwood, composite material…etc.? Are railings needed? Where is the best location for sun and views? Is it a DIY job or is it time to call the professionals?
Large, handcrafted logs and rustic design has always appealed to log home enthusiasts. Post and beam entryways, in addition to providing practical benefits (directing visitors to the front door, shelter from the elements) also provide a subtle suggestion of what to expect upon entering the building. Whether traditional or contemporary, simple or elaborate, a thoughtfully designed entry can enhance your home's appearance and function.
Whether to upgrade the fireplace itself, remodel with a new mantle or the background, the possibilities are endless.  Remember a log cabins fireplace is often the focal point and you want it to shine.
The team at 888 Log Guys love working with you to come up with creating ways to make over your home!  Generally, when our clients talk about log home improvements, it's about restoration or fixing something that is broken.  A remodel is different — we are talking about making something new and way better.  And that is fun!