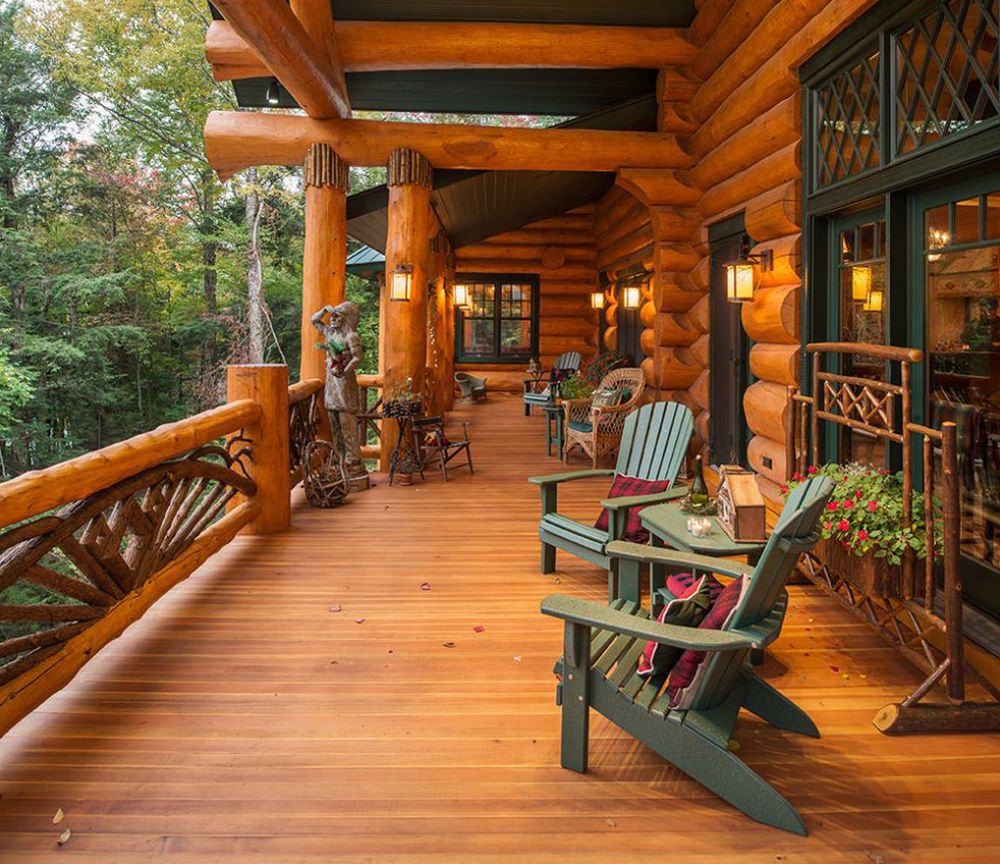 It's a great time of year to begin your outdoor project!  When looking at your outdoor space, whether it's for a new construction home or a current home renovation, it's an opportunity to add more living space. There are endless ways to go, depending on your family's needs and wants. Here are a few thoughts to help get your imagination going…
Wrap Around Porch
By definition, a wraparound porch goes around two or more sides of your log cabin. Many people enjoy wrapping these porches all around their log homes. A real porch has a roof, otherwise it's a deck. A wrap around porch offers some protection from the elements, views from many vantage points, and many décor opportunities!
Screened Porch
Depending on where you live, screening porches may be a necessity or least a preference. Window screens prevent insects, debris, and other undesirable items from entering the area, while helping keep pets and small kids in. During fair weather, this change essentially adds a second living room area. You can also decide to just do a partial screen in, leaving a section open.
Creating a screened porch is often a simple project homeowners can tackle themselves. There are many DIY videos to accomplish this in a short period of time.  Make sure to check the regulations in your city, county, and any subdivision restrictions before beginning the project.
Decks
Who doesn't love a log cabin with a beautiful deck? Depending on where the deck is on your log home, its function can vary. For example, a deck off the living room might become the favorite place to eat dinner. Meanwhile, a deck off the master bedroom becomes a private retreat. There are also several questions to ask yourself about the function of your deck. How do you plan to use your log cabin deck?  Grilling?  Dining?  Hanging out?  Does it need to be enclosed and gated to corral kids and pets?  Does your deck need to have electrical access and be reinforced to support a hot tub?  These considerations can impact size, shape and possibly location.
Patios
Some may wonder what the difference between a patio and a deck is.  A deck is an open outdoor porch or platform without a roof that extends from a house. On the other hand, a patio is a paved area situated directly on the ground, which can either be attached or detached from a house. Patios are another versatile choice to add to the outdoor living space of your log cabin. They're easy to personalize and offer increased resale value.
Outdoor Fire
Both fire pits and fireplaces fascinate humans. Adding one to your log cabin property adds an instant gathering place. Some of the other benefits include;
Provides year-round enjoyment, warmth on cool nights, smores with the whole family on warmer nights
Firepits can be incredible versatile, fuel, portable propane, or wood
Offers light when needed for dark locations
Can serve as a second kitchen
Can be very romantic
Add value to your home
Plus, campfires and log cabins go together famously.
Sunrooms
While not technically outside, sunrooms are a great way to meet the outdoors halfway. These rooms are typically enclosed and can be climate controlled if you want. A sunroom provides extra space that can serve a variety of purposes. Use it as a family room where you and your loved ones can relax and enjoy each other's company. It also creates a quiet oasis that's ideal for morning coffee and to take in the beautiful view.
Adding or personalizing outdoor space is an exciting project with many options.  Decide what features are important to your family, if you are able to do it yourself or if you will need to hire out, what your budget is and what your completion time frame is.  If you need assistance with your project, contact the team at 888 Log Guys!