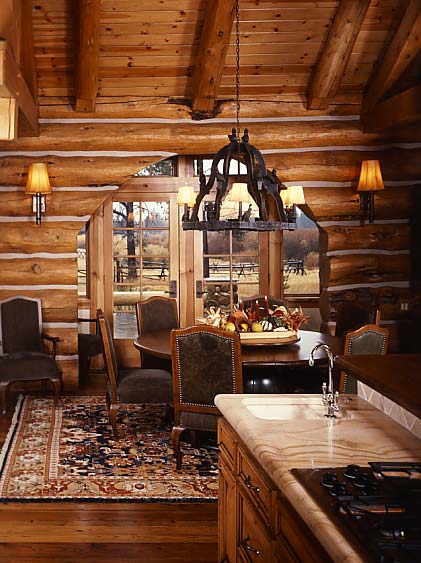 Lighting systems that are strategically placed will effectively and exquisitely illuminate the interior of your log home.  It is ideal if you are building and can plan your design from the beginning, however there are lots of creative options if the alternative is your situation.
Log homes offer a kind of warmth and inviting ambiance that no other type of home can provide. The richness of the woods, the rustic structuring and the cozy feel all combine with your lighting system to create positive moods and feelings… lighting adds that final touch. Let's break it down room by room!
Your Bedrooms
Subdued lighting is what will make any bedroom feel like a welcoming oasis. Overhead lighting should use 40-watt bulbs to keep the brightness-factor low-key; but more importantly, bedside lamps should have 25-watt bulbs.  Lamps with softer lighting have a way of showing off your log's stain. The richness of the log's interior will virtually glow with softer lighting.
Tip: Have the lamps on prior to calling it a day so when you walk into your bedroom, you will, instantly, feel a sense of quietness and peace.
Your Bathrooms
Bathrooms are typically lit with very stark, bright lighting—not too welcoming first thing in the morning. Although enough lighting is necessary for shaving or applying make-up, too much lighting is emotionally jolting. Lighting that is too harsh will cast shadows that will make anyone look years older, especially with lighting situated directly above the vanity mirror. Bathroom lights controlled by a dimmer switch can be a great balance with options for everyone's lightening needs.
Also, strip-lights on either side of the vanity mirror instead of being situated above the mirror create a much more direct light pattern where shadows on faces are minimized or eliminated.
Your Dining Room
If you want to showcase your ceiling's log woodwork, use specialized accent lighting that is designed to direct the light beams upward. This will showcase your log woodwork, above, and create a dramatic feeling of richness and spaciousness. Creating a dining room that feels soft and relaxing can be continued with the use of a dimmer switch, once again, that controls any chandelier you might have. By the way, adding a chandelier will bring a flare to your space, don't be afraid to go bold!
Other sources of light such as a china hutch with miniature halogen bulbs inside the hutch can create an inviting ambiance. Or opt for a wall table and lamp. For lamps, we suggest sticking with 25 watts bulbs to maintain the warmth of the room.
Your Kitchen
If you want lighting that is multi-talented, install under-the-cabinet lighting! On low-setting during evening hours, it can act as a soothing night-light display while offering functional light during the day for meal preparations. If you have an island in your kitchen, there are two types of lighting that work very well: recessed ceiling fixtures or track lighting. Both provide very direct highlighting of specific areas where needed; and again, dimmers can be installed to control the amount of direct light you are in the mood for.
We haven't mentioned this, but window treatments are conducive to log-home kitchens and other rooms since they can allow natural light to give darker log walls a radiant glow. Use light, translucent options to allow as much natural light as possible.
Your Living Room
If your log home has cathedral ceilings, the wood detailing can be highlighted with 'up-lights' 9 feet above the flooring. Up-lights are designed with drama in mind, they will bounce off the ceiling to create visual height. Your log trusses will radiate and become the showcase they were intended to be!
Another tip is to use side-lighting from wall sconces. The idea, here, is the same for your living room as it is for the bathroom lighting that was discussed, above. Overhead lighting causes glare and shadowing of not only furniture, but people's faces; and it can make one feel as if one is in a lit-up warehouse. Wall fixtures remedy this and will complement any room and provide a softness that is universally appealing. Side-lighting will provide a true sense of warmth and hospitality. And don't forget floor and table-lamps with low wattage bulbs. 3-way switches can be added so you have access to low-lighting for mood enhancement or brighter lighting when reading or studying is a necessity.
In Conclusion
Though your log home has an inherent ability to make others feel comfortable and relaxed, your lighting systems and strategies will add that finishing touch! Lighting is truly an emotional component of your home, it can enhance your family's mood with positivity and calmness… Choose wisely!