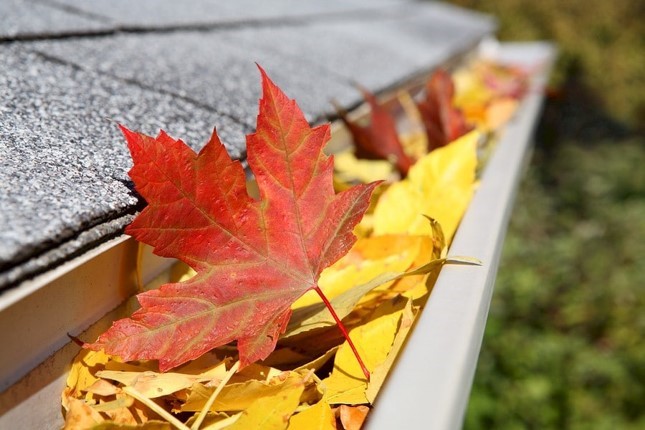 When considering log home maintenance, think "gutters prevent rot." Clean and optimal working gutters will allow free flow of water away from your home. If your cabin is surrounded by trees that seasonally shed leaves, cleaning your gutters is at minimum a semi-annual task.
If gutters are not working properly, water can spill over the edge and defeat the purpose of the gutter. A clogged gutter can allow water to splash back onto the logs when it hits the ground or deck. Maintaining the gutters includes making sure there are no leaks, especially in the downspouts. A crack in a seam on the gutter can allow rain to drain down onto the logs, which can lead to rot.
If water comes into contact with the fascia, the wooden surface will be protected from rot if the gaps are caulked and in good condition. Be sure and check the areas around the gutters and downspouts for gaps.
This area of your home is an especially appealing place for squirrels, wasps, and other critters, so it's important to remove them immediately, before they can do any damage.
If you have a deck where the rain off the roof drops onto the deck, consider installing gutters along this roof edge. It will prevent water from continually splashing up on the lower logs and can prevent rot on your valued log home or cabin. Also, be sure downspouts are directing the water away from the home, a slight slop is optimal.
These are some ways to help you eliminate the costly repairs due to rainwater damage. If you're not comfortable cleaning and maintaining your gutters, seek a professional company to aid with this task. This is definitely one you don't want to ignore or delay. 888 Log Guys offer a semi-annual or annual maintenance check, call us today to learn more!