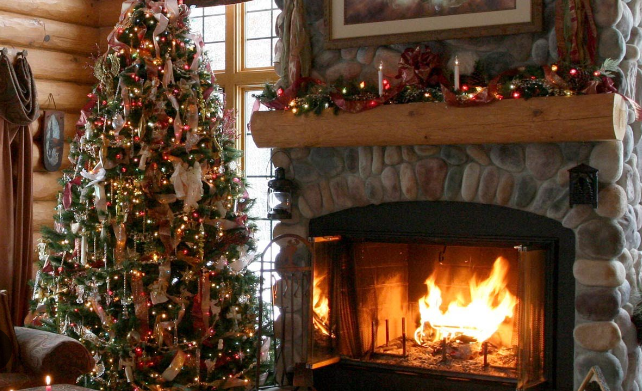 Many of us tend to choose artificial Christmas trees these days. There are many reasons why artificial Christmas trees have increased in popularity over the last many years. Artificial trees seem to be made more durable, long lasting, real looking, and affordable than ever before. Combine those qualities with the long lasting LED lights that come pre-lit on the tree and add on easy assembly and it is no wonder why they seem to be the best choice for many families. However, with all that being said and true, there is something truly magical and special about real Christmas trees specifically chosen and placed inside a cozy Winter log home. In this article we'll go over some of the most popular types of real trees to choose from, and how to make the best decision on the tree that will go in your home.
Fir Trees: Fir trees are the top most popular Christmas trees today. These trees are very popular for a variety of reasons, one of the main reasons is that their needles tend to lay flatter in comparis:on to other kinds of trees and the needles are the most soft out of other trees to choose from. Fir trees might be the best option for your family, especially if there are young children around the tree. There are plenty of fir trees to choose from including, balsam, fraser, noble. If you're someone who likes a strong fragrance you may even consider a douglas fir, they tend to be very fragrant and have beautiful dark green branches.
Spruce Trees: Spruce trees are another common choice when it comes to real Christmas trees. Blue Spruce, Norway Spruce and White Spruce are all wonderful choices when it comes to choosing a Spruce Christmas tree. These trees typically grow in Western and Northern American in Mountainous areas. They are distinguishable by their pyramid-like shape and four sided needles. These trees tend to have a blue /green foliage and must be watered regularly to avoid needle shedding.
Pine Trees: The most common pine trees are Scotch pine and Eastern white pine. One of the major differences in pine trees is that their needles tend to grow in clusters. This makes them appear more dense than they actually are, since they also have fewer branches than other species of trees. This kind of tree tends to be one of the better options if you like a tree full of lights and ornaments because there is more space to fill up.
Regardless of what tree you choose, it is hard to beat the look and feel of a real tree beautifully decorated inside a log home. While real trees are fun to have and look at, there are some safety tips you should be aware of with a real tree in your log home.
Use lights on the tree that produce low heat, such as miniature lights, and always choose LED when possible. This will prevent the tree from drying out.
Always unplug the lights from the wall when leaving your home, even for a short amount of time.
Keep your tree properly watered.
Do not overload electrical circuits.
Keep the tree moist by regularly watering, do not let it get too dry.
Bonus Tip:
Avoid vacuuming needles from your tree with your vacuum cleaner. This will cause damage. When possible, sweep the majority of needles off of the floor first, and you may vacuum the remaining few.