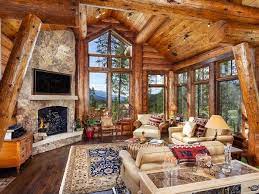 It's the perfect time of year to share some ideas on cabin décor.  When weather keeps you indoors, why not fire up your creativity as well as the fireplace!  Everyone loves the rustic cabin look, but here are some additional thoughts to brighten up your space, especially during cold winter months… Or all year long! And hey, even if your home isn't technically a cabin you can still get inspired to bring some of cozy vibes into your home…
Light
Log homes are notorious for not having enough light, especially in the winter. Here are a few ideas to help brighten things up.
Remove curtains or replace with lighter colors that allow sunlight through.
If possible, increase the size of your windows or add skylights.
Add mirrors in a few locations to reflect light and create a sense of openness in dark corners or rooms that don't get much natural light. Try to place them where they will reflect sunlight during the day or interior lights in the evening.
Reflective surfaces can also help a log home feel lighter and brighter – In addition to mirrors, use shiny accessories, and metallic items to bounce light around.
Lightbulbs, lamp shades, light from a fireplace and candlelight can make a huge change in the feel of your home.
Color
Very often log homes are filled with dark wood and brown leather furniture. By adding a little color you can do wonders to bring life to your space.
Add items that are white and brightly colored to your log cabin to reduce the overload of wood and browns.
A white or lightly colored sofa with brightly colored pillows and a colorful rug can make your log home feel more cheery.
A bowl of colorful fruit on the kitchen countertop can add a touch of color to a neutral kitchen.
Fabrics
Log cabins can sometimes feel overly masculine.  A simple but effective way to overcome this is the addition of fabrics.
Add fabrics, such as sheer white curtains, a fluffy rug, and soft white bedding, to make a space feel more welcoming.
Faux Fur is a great cabin accessory. Wherever you add faux fur – over the sofa, at the end of a bed, on the floor – it will instantly add comfort and texture to the space.
You can also add fabrics to your walls, such as quilts or tapestries.
Flowers and Plants
Don't forget that you can bring flowers and plants inside your log home to soften all of the wood. Plants also help purify the air. Flowers add a feminine touch to a home's masculine log interior.
Modern Elements
Don't be afraid to add a few modern elements to your log cabin. You can blend the old with the new and have a beautifully decorated space that has both the warm of a cabin with the brightness of a more modern home. The mixture of rustic timbers and modern decor can be quite striking.
Add modern light fixtures or modern artwork for a bit of fun.
As with most cabin decorating, it's all about the layering. Layer up different textures and patterns and pick out pieces that have a 'worn' look to give the space that very lived-in feel. Check out this link for more "Boho" décor ideas; https://www.pinterest.com/campcurtisremod/boho-cabin/
Switching out the traditional dining chairs for a bench seat.
If you need to bring life back to interior logs, call the experts at 888 Log Guys for log resurfacing and restorations.