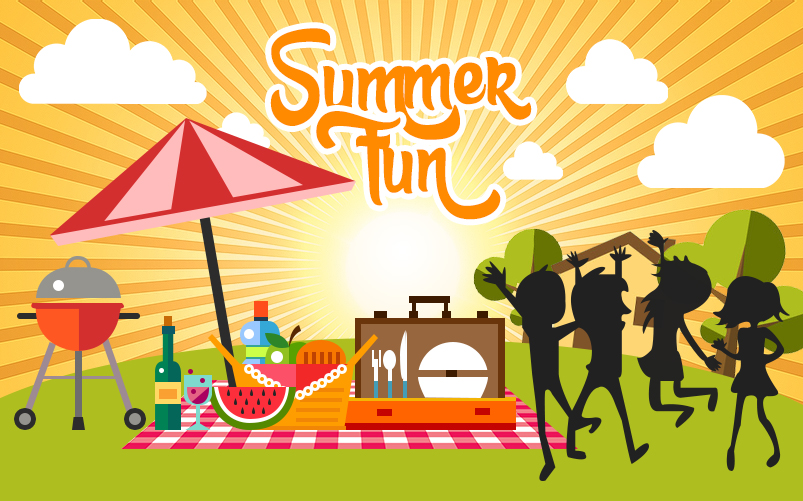 It's that glorious time of year again where the sun is shining (well, for most), the days are getting longer and hopefully life is slowing down a bit… Which can often be referred to as the "lazy days of summer".  Of course, for some this may not entirely be the case.  However, if you are fortunate to have a little freer time in your schedule, how about revisiting some projects that you don't have time to do during busier months.  Obviously, there are the typical household chores with maybe some additional maintenance necessities that will need some of your attention.  But, for the purpose of this post, let's focus on a few things that are more fun and haven't been "To Do list" priorities.
ACTIVITIES
Make and share a fall craft in advance. Beat that neighbor or friend to the punch this year!
Plan a summer date with that special someone, or the whole family. Dream up the ideal summer date that includes some of everyone's favorites, like food selection, colors/ambience, specific activities, music, etc.
Write about how you keep fit and healthy during the summer. Yes, you actually need to do it first. This is definitely a case where action speaks louder than words.
Come up with a new summer style. Put together something new and fun and take some pics.  If you have kids or a group of friends, throw a fashion show.  Talk about finding inspiration to change up your look a bit.  It can be subtle or totally crazy!
Plan a day for yourself. Summer is a great time to get away with time off, or if needed you can still be productive while away. Make it a spa day, or go for a long drive, maybe just pack a picnic and book and search for a beautiful tree to sit under.
If you can't take a vacation, find ways to construct the carefree feelings of a vacation at home. Pinterest is a great place to look for DIY ideas. You can also find lots of fun party stuff at second hand or dollar stores to keep this staycation low budget.  You can even have a spa day at home… Whip up some DIY summer beauty or health treatments from Pinterest and spoil yourself a little.
DÉCOR
Create a mood board of favorite summer colors—look for ways to incorporate them into your home deco or outdoor landscape. You can easily add flowers, metal artwork, throws & pillows or small furniture pieces to help accomplish this task.
Focus on summer holidays, like 4th of July. Brainstorm on entertainment and celebration ideas using stuff you already have, and maybe even create a fun photo shoot backdrop for a summer memory album (hey, there is another fun activity for your summer)
FOOD & DRINK
Create a new recipe from foods you love to enjoy in summer. Perhaps go a step further and assemble a summer go to book with a variety of recipes such as festive, healthy, quick and easy and on the go eats.
Try a summery new cocktail recipe… There is no reason to limit your flavors to food recipes.
GIVE BACK
With the weather so nice, why not do something for the environment? Plant a tree, volunteer, etc., and write about your experience in a journal or on your social media to encourage others to do the same!
RELAX
Take some time to look up 10 books to add to a summer "want to read" list and share it with friends.
Music fan? Build a fun summer playlist, or two or three… You can have a road trip playlist, beach playlist, family BBQ playlist, summer clean-up playlist, and on and on.
FUN CHORE
Start on that outdoor landscaping project you've been wanting to do but just haven't stopped long enough to focus on. Once it's done, I guarantee that every time you walk by it, you'll smile.
Did someone say summer clean-up? If you're looking for a sense of accomplishment, how about going through your dressers, closets, storage areas, garage, etc. and make some piles. You can have a "keep" pile, a "donate" pile and a "trash" pile. Have kids?  Let them work on their very own piles.
Also, don't forget, the team at 888 Log Guys is here to help with maintenance, repair, or renovation projects your Log Home might need.  We can help so your schedule can stay open for some of the lighter, family fun projects.