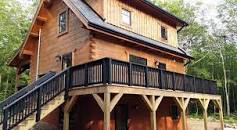 For the log home homeowner… When you visualize your dream home, what is one of the first changes you would want to make? Is it a new deck and railing, maybe a room addition, possibly just a facelift, blasting, with a new coat/color of stain?  Many of these projects can be done in the winter months, saving your spring and summer for construction free enjoyment!
Here are a few ways homeowners have "upgraded" their log home.
Deck and Railing
Every detail matters when it comes to the right deck and railing for your log cabins aesthetics, including location, shape, and durability. Plan a well-designed deck so that you can create a look that adds beauty, usefulness and value to your home.  Check out this link for some deck design inspiration!
Room Addition
As your family grows and the years go by, you may find that your
once-cozy home is a bit overcrowded. When it comes to your log home and choosing to add additional space, your first decision needs to be where to add the space. Do you want the addition on the main floor or on a second level? Adding space has a number of factors to consider. Things such as the building site, the design of both your existing home and the prospective addon, and your budget. Again, working with a professional is hugely helpful, even during this stage.
Stain Color
Just as the paint color on a traditional home makes an impression, so does your choice of stain on a log home. Of course, to get the most out of your stain, you will need to choose a quality stain product and confirm the wood species will accept the stain well.  Proper application of the stain is also paramount to achieving the desired look.  Staining and sealing is not just an aesthetic component, it is also paramount it wood preservation.
In addition to stain color, there are treatments that can add unique character to your home. There are glosses that can add sheen, and additives that can make your logs appear duller. There are even products that can make a new log home look as though it were 100 years old.
Unless you are experienced in Log Home construction and restorations, these types of projects are often best handled by a team of knowledgeable professionals with a proven history in Log Home care.  The team at 888 Log Guys will help you realize your project goals and will walk you through the most budget friendly options for the best result.  Give the team at 888 Log Guys a call or complete our online contact form, today!